Meet Tyler. She crossed the great divide from "Blog Buddy" to "Real Life Friend" when I had the honor to meet her TWICE! Which is crazy because she lives in a foreign country (Canada). Because she has so many children, I listen intently as she imparts any kind of parenting wisdom. I'm so excited she agreed to contribute to this series. Please welcome my friend Tyler Rowan to The Scoop on Balance.
~~~~~~~~~~~~~~~~~~~~~~~~~~~~~~~~~~~~~~~~~~~~~~~~~~
The Ideal Homemaker
I am a wife. I am mom to five kids, ages 16, 12, 11, 9, and 6.5. I am a homemaker. My main job is the unpaid work that goes on here at home to keep our family functioning.
Whether you're a stay-at-home mom like I currently am, a mom who works outside the home, a mom who works at/from your house, or some combination thereof, you're probably familiar with the demands of home-making. (Side note: For the record, I tried the whole "working mom" thing for a couple years recently – it nearly killed me! Being a mom is HARD work, y'all; being a working mom – just wow. You are heroes! Let's face it, we're all heroes. We just wear different uniforms. End side note.)
The title "homemaker" brings certain images to mind…
Empty laundry hampers, because the laundry is washed, dried, folded, and put away immediately.
Clean toilet seats (and floors surrounding the toilets) and sinks, because the bathrooms are scrubbed down daily.
Floors devoid of crumbs, tufts of dog hair, dust bunnies, and random toys.
Countertops, shelves, and corners that are neat and orderly; not consisting of piles of "stuff."
Home-cooked, healthy meals EVERY day.
Children who are bathed regularly (at least every second day or so)!
Oh, and a mother who is wearing cute clothes, has done her makeup, and wears a smile to top it all off.
Basically, the ideal homemaker describes my antithesis.
My front room, meant for entertaining guests. Note the many piles of many things everywhere. And the wooden, painted Nativity on the bookshelf that still hasn't been put away.
The Trap
Recently, I went to a meeting at the house of a mom I'd never met. My mind was blown! The cleanliness was palpable. No dust or dirt, no clutter, no crumbs. Valentine's Day was approaching and she had a tree decorated with hearts and red and pink streamers in her living room! It was 10am and there was something quite delectable simmering in her crockpot for that evening's dinner. She wore cute jeans (not "mom" jeans) and a trendy top, had her hair curled and her make-up on. And she was super nice, to boot!
I loved her, envied her, and hated her all the same time.
When I compared her home to mine, my homemaking skills fell very, very short. Clearly, I thought, she is a good mom and, by comparison, I am not.
I can't tell you where I ever got the idea that I had to be an amazing homemaker in order to be considered a good mom. Or that those of us who are not-so-amazing in the homemaking department are not-so-good moms. But I do know it's not just me.
I know I'm not the only one who's entered the less-than-tidy house of a friend and secretly gloried over the fact that at least my house isn't that bad. I am certain that others have entered one of those ah-may-zing houses (like the one I described above) and been convinced that I have to do better. Each of us has an unwritten standard in our minds for the ideal homemaker (aka, the good mom).
It's all part of The Comparison Trap Sandy speaks of.
Comparison crushes our confidence, our creativity, and our contentment.
THE LIE: A Good Mom is a Great Homemaker
Lie #1: There is a minimum standard; a line that separates the good homemakers from the rest of us. Falling below that line pushes us into two categories that we really don't want to fall into: bad homemaker and bad mother.
Lie #2: There is a magic formula to being a good homemaker. Doing certain things at certain times, following a special routine, working our way methodically through the "good housekeeping" checklist – all these things will keep us above the line. Then we will be good homemakers (aka good mothers).
Lie #3: Other moms are secretly (and not-so-secretly) judging our mothering abilities based on the cleanliness of our homes and the meals we serve and, of course, how put together we look while doing it.
Squashing the Lie
I know in my heart that there's a lot more to being a good mom than having a shiny, clean house and sending fresh-baked treats to school on my child's birthday (Seriously, they do that here! It's like the whole community is plotting ways to make me feel more inadequate!).
You know it in your heart, too. Right?
A messy house doesn't make you a bad mom. Ordering out doesn't make you a bad mom. Wearing yoga pants all day doesn't make you a bad mom. Pulling clothes out of the dirty laundry hamper, giving them a quick sniff and inspection, and tossing them at your child while growling, "Here, just wear this today!" doesn't make you a bad mom. (Right? Right? Please tell me I'm right!)
The difficult thing is moving that head-knowledge into our hearts so that we believe it and live like we believe it.
The only way to squash out the lie is to replace it with truth. Over and over. Every time we feel the lie trying to take root again.
THE TRUTH: You Are a Good Mom
By this everyone will know that you are my disciples, if you love one another.

~ John 13:35
Truth #1: Good moms care about whether they're doing a good job or not. You are concerned about the details (from discipline to laundry). If you want the very best for your family, you are a good mom.
There are different kinds of gifts, but the same Spirit distributes them.

~ 1 Corinthians 12:4
Truth #2: Good moms are good at different things. While some moms truly enjoy caring for the home, other moms might love organizing the family calendar* and making sure people get where they need to be when they need to be there. While some moms gain great pleasure from serving a home-cooked meal, other moms might thrive while watching their kids at play in the great outdoors. If you do what you love for your family, you are a good mom.
Therefore, encourage one another and build one another up, just as you are doing.

~1 Thessalonians 5:11
Truth #3: Good moms are real moms. Real moms have real lives that are sometimes messy – literally and figuratively. Instead of judging each other, real moms encourage each other. Rather than putting up a perfect front, real moms let down the walls for the sake of relationship. When the rest of the world tries to tell us to be more and do more, real moms tell one another, "You are enough." Sure, real moms sometimes mess up and secretly judge the stained carpet on the landing…But real moms are kept humble by our own realness, our own messiness, and we spend more and more time in place of grace. If you are a real mom, you are a good mom.
Moving Forward in Truth
Fellow moms, sisters, friends…
How about we all just agree now that a clean house does not a good mother make? (You'd make me feel a lot better about the state of my office and living room and kitchen and, well, everything, if you would nod your head.)
How about we learn to give ourselves and each other some grace and understanding?
How about we stop comparing and just start being real?
How about we embrace ourselves as we are – as God created us – with all our strengths and weaknesses?
How about we accept the truth?
You are a good mom!
With love,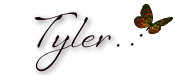 P.S. Sometimes, really good moms recognize that they need a little help, and they hire another mom who truly loves scrubbing to stay on top of the cleaning details, so they can be free to focus on chauffeuring five kids to different activities, watching and revelling in every moment guilt-free. Just sayin'.
* My desk vs my calendar.

The desk (aka "the disaster"). The only thing I recognize is my coffee cup!

The calendar (aka "my happy place"). Notice the lovely colour-coded appointments for all 7 members of our family? Ah, so beautiful!
Tyler and her hubby Pat are the proud (and often frustrated) parents to five awesome and tiresome kids! Tyler writes on her blog on a fairly irregular basis, has a self-published book (her blog in print), and enjoys speaking about her real/raw/funny walk with God for women's groups. She loves organizing lists and spreadsheets and hates organizing closets. Tyler's also on Facebook, Twitter, and Pinterest (well, sorta – Pinterest is very confusing!).